User Products
The main NUV products are those displayed at this site as images and tables.
However, the daily NUV forecast products can be customised to meet special user requests.
It can be delivered as gridded data in longitude-latitude or for a list of locations, global or subset, and in various formats.
For the NUV Clear sky UV index five day forecasts can be produced.
Graphics and maps of areas of speciel interest is also produced, see examples below.
Products can be downloaded from this site or delivered via ftp.
If you have special requests contact hjs@dmi.dk or AC SAF Helpdesk helpdesk@acsaf.org
Examples of special user requests
Gridded data as text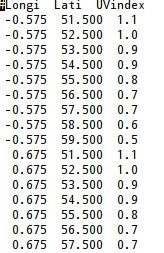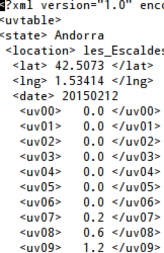 Graphics